Episode 10:
The Benefits and Challenges of Managing A Remote Workforce
In our previous episode, we discussed the importance of finding and hiring virtual employees to help you scale your business. Today, we're covering the best practices to help you manage those workers once you bring them onto your team.
When managing remote workers, it's important to remember that what works in the physical world still applies in the digital world. Having clear expectations, open channels of communication, and building good relationships are still essential parts of your job. What changes in the virtual setting is how this happens.
On this episode, you'll learn:
What your expectations should be of your virtual workers
Tips and strategies to facilitate good communication
How to give positive and negative feedback to outsourced workers
Cross-cultural factors you may need to consider
If you're ready to scale up your business and manage a remote team, these are lessons you won't want to miss!
The Benefits and Challenges of Managing A Remote Workforce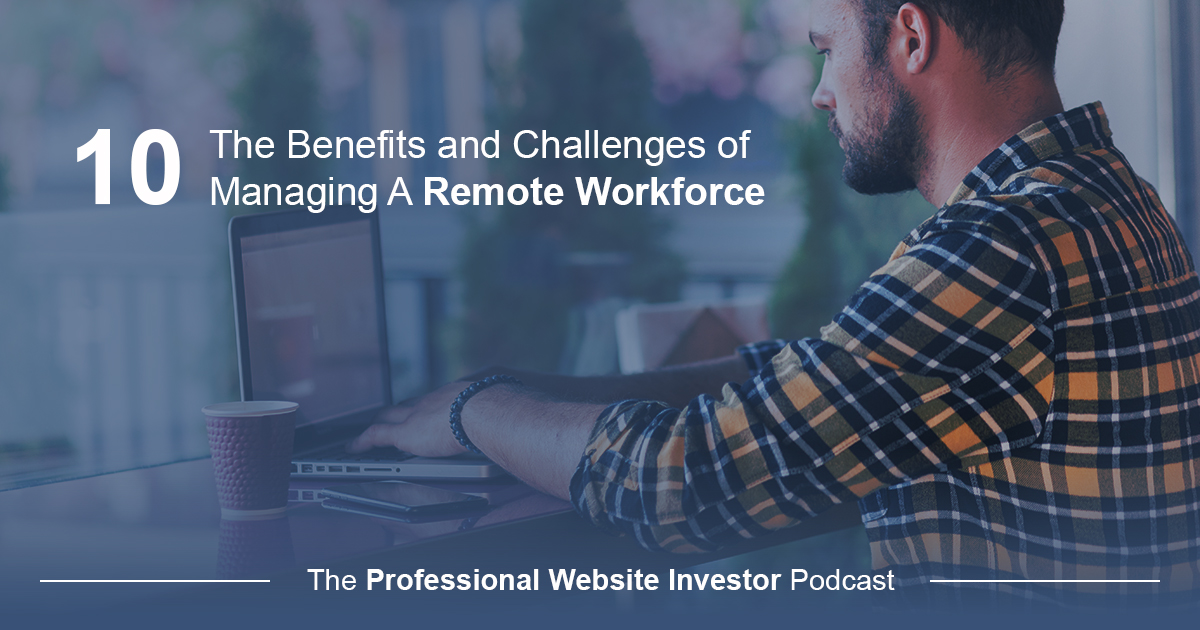 Episode 09:
Scaling Beyond Yourself
If you are running an online business, you should consider outsourcing some of your regular tasks to remote workers. An increasing supply of remote talent, combined with advances in technology, have made outsourcing easier than ever. In addition to freeing up more of your time, outsourcing connects you with talented experts who can make improvements to your business and help it grow beyond the amount of time you can devote to its needs.
Today, we're talking about what it takes to make this happen. In this episode, you'll hear about what it takes to find and hire the right workers, sometimes called Virtual Assistants or VA's. You'll also learn about some of the systems you will want in place to set yourself and your workers up for success.
In this episode you'll hear:
When it's time to consider scaling beyond yourself
What Virtual Assistants are, what they do
The systems you should have in place for your virtual workers
Best practices for finding and hiring the right people
If you're looking to bring others on board to lighten your load and expand your reach, then this episode is for you!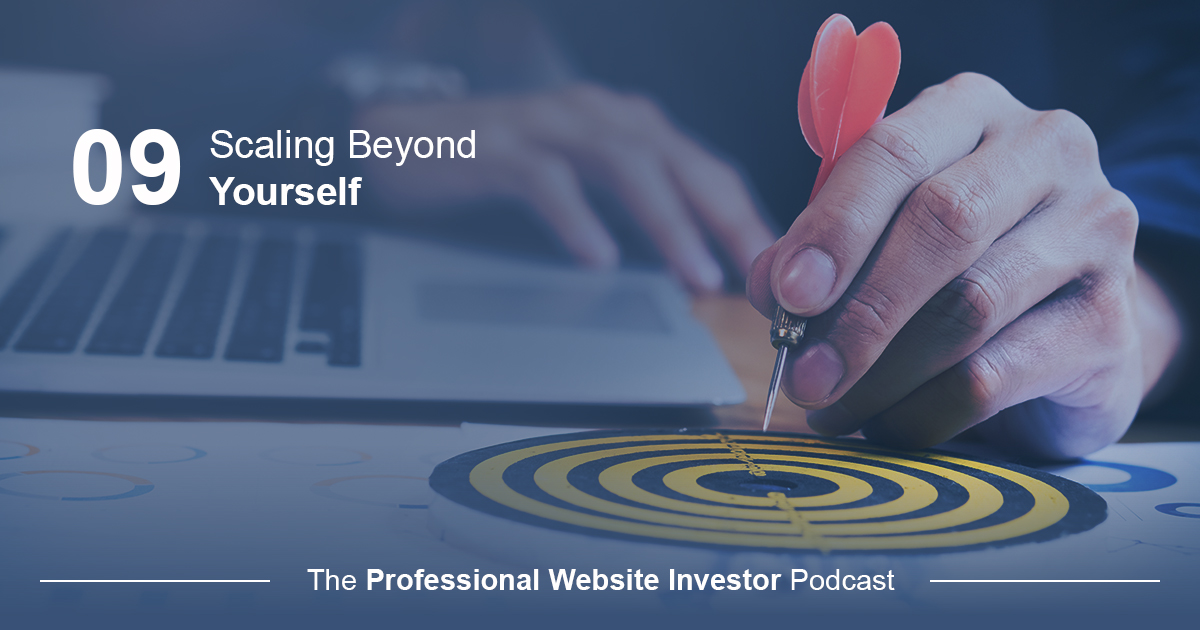 Episode 08:
So, You Just Bought Your First Ecommerce Store. Now What?
You did it. You did your research, you made your investment, and now you own an ecommerce website. Now what? How do you handle the transition as you take over an existing website? What systems do you want to have in place before the purchase goes through? How will you guide your virtual employees and connect with your new suppliers?
In this episode, Ian covers some of the most important factors to consider in these formative, early days in your tenure as the new owner of a website. Taking over a website will always take some work, but having a clear set of systems and standards in place before the purchase is completed will make this transition a lot easier. These are the answers you want to have before the questions start coming your way.
In this episode, you'll hear:
Why the first 60-90 days is so important and what you should do first when you take over a new website
The difference between "working in" your business and "working on" your business
Robert Kiyosaki's Cash Flow Quadrant and how this is a useful way to think about your business
How to include your virtual workers in this transition
What you want in place at the end of the first 60-90 days
So, You Just Bought Your First Ecommerce Store. Now What?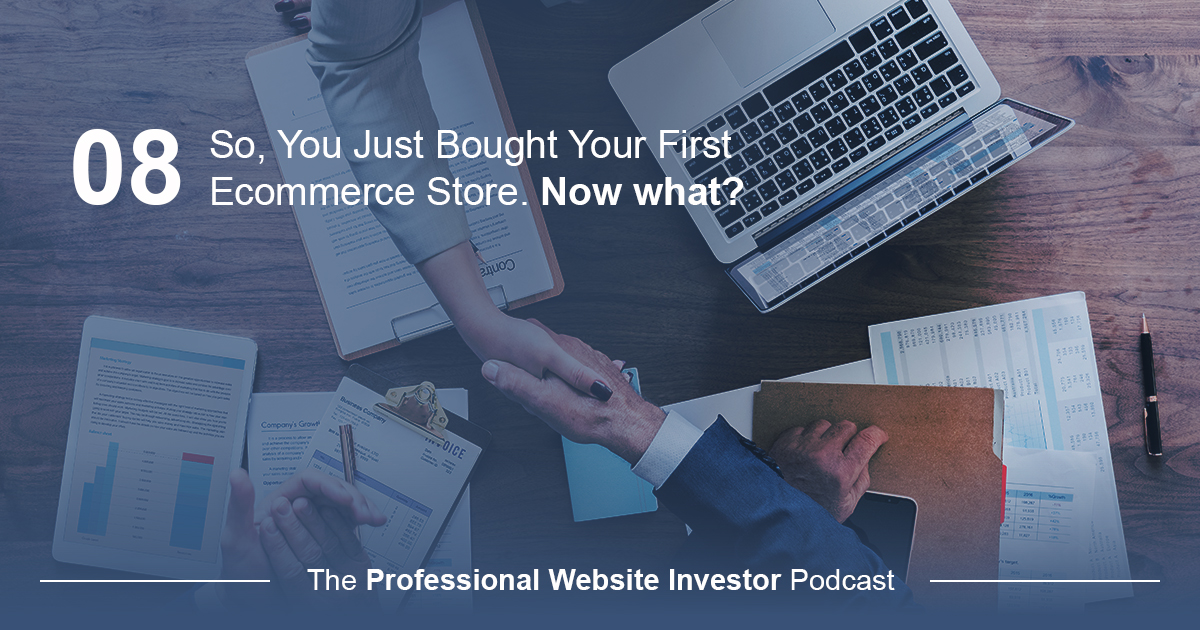 Episode 07:
Why You Should Focus on Physical Goods Ecommerce
Once you've decided to get involved in Ecommerce, it can be confusing to know what types of websites and markets you should target. There are several types of markets and business models you can search for and several factors to consider. You may be wondering if one model is easier or safer than the others. You may also be considering whether you should focus on one type or diversify your projects.
In this episode, Ian makes the case that you should focus your attention on websites that focus on physical goods ecommerce. In Ian's experience, websites with an established presence buying and selling physical goods are easy to learn, safe to invest in, and have a clear path to profit.
In this episode you'll hear:
What the physical goods ecommerce market looks like right now
The main benefits of focusing on physical goods ecommerce
Why you should consider finding a niche within physical good ecommerce
The problems with other ecommerce models
The importance of finding a mentor to guide your efforts
If you're ready to make your investments and are looking for a place to start, this is an episode you won't want to miss!
Why You Should Focus on Physical Goods ECommerce